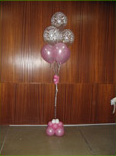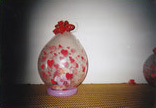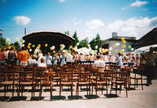 Balloon decorations

with using of varicoloured rubber- or foil balloons and making of wonderful balloon compositions we are able to design your program more intimate and discrete,

Desk decorations - playing an important part of the programs because of they simpleness and correct accessory of the perfect accord. In various designs, suitable to the occusion with balloons filled with air or helium and small complementaries we can make the vision more felicituos.

'Balloon-rain' - it can be the high light of the performance – rain of 200-300 pcs ballons in different colours could be a perfect fulfillment of the elation of the parties.

Helium favours - we are offering bunches made from balloons filled with helium or air – by way of donation as well.

Helium pearl-arch - the great impression could be achieved with a festoon consist of helium balloons.

Garlands - the most important part of the perfect design gives astonishing vision with the large balloon braid.

Gifts built into the balloons - combination of the bestowal with funny balloons – almost everything can be fit into the balloons – plush toys, treasures, funny fellows in given dimensions.

Delivery of balloons - to ensure decorations, balloons, balloon compositions to celebrations, suprise parties, weddings...